San Francisco is a very walkable city. You will be staying within about 10 minutes walking distance of the Wikia offices, see the map below for directions.
What if you want to go somewhere other than Wikia? Here are your options.
Cable Cars
This is what San Francisco is know for, the cable cars that pull you up and down the famous hills!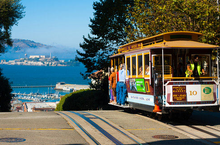 Here's some more information about how to ride the cable cars. The fare one way is $7, and you must have exact change.
Muni
Buses cost $2.25 a ride, you must have exact change. The bus driver will give you a transfer ticket - keep this as it is your proof of payment. Be aware on buses if you have your mobile phone with you as there is occasional theft of phones on buses. Muni link.